Hi, good you are here! 👋
Spaceflow, a global PropTech company that revolutionizes the way we interact with the built environment, is looking for a Marketing Specialist who will help us grow further. We aim to find a professional who will be responsible for planning the marketing strategy and maintaining what the brand represents across all channels, but at the same time, who has a self-starter, hands-on approach, and is able to execute most of the marketing activities.
Does it sound like your ☕️ ? Let's have a look at more details. ⬇️
SPACEFLOW IN A NUTSHELL
We help landlords connect buildings with their occupiers in the all-in-one digital tenant experience platform. 
Spaceflow unlocks the true potential of office and residential buildings, as well as student housing and coliving, by digitizing all tenant-facing operations, enabling smart building functions and helping communities thrive. 
Spaceflow helps real estate owners and users in numerous countries globally, most prominently in Scandinavia, Benelux, and the UK
CONTEXT
For Spaceflow, marketing has been super-important since the establishment of the company. We strongly believe that only with a powerful enough brand, we are able to work side by side with our clients to digitalize life in buildings and create exceptional experiences worldwide.
As Spaceflow's Marketing Specialist, your goal will be to collect inputs, tie them all together and present it to the world in a nice wrapping.
You will have one great asset at your disposal – an experienced Graphic Designer who has been with the company from the start – so you don't need to worry that much about the visual part of the marketing campaigns and focus on the messaging, copy and analytics behind.
The ideal candidate for this role is based in Prague to meet our team regularly.
YOU WILL
Develop and execute B2B marketing campaigns and revenue-generating programs for all customer segments. 
Increase website traffic and conversion 📈 to capture quality leads. Manage an external Website Specialist to feed the website with new content, optimize the user experience, maintain technical aspects and constantly improve our digital presence. 
Create quality content 📄 across selected marketing channels as well as compelling copy for marketing and sales assets (landing pages, decks, award applications). 
🤝 Build and nurture relationships with product and business partners and create co-marketing activities with them. 
Evaluate the effectiveness of all the activities and source channels and make data-driven decisions. 
Identify opportunities for global conferences and events (🎤 speaking opportunities, exhibitions). 
Collaborate with the 🎨 Graphic Designer and cross-functionally with Sales, Customer Success and Product teams. 
Develop marketing database and execute email nurturing campaigns (in co-operation with Commercial Enablement Specialist).
TO WIN THIS ROLE, you should have/be
3+ years of experience in Marketing (ideally B2B or SaaS)
A self-starter approach. You will be your own day-to-day manager and you can expect no micro-managing as our team is lean and effective 
✍️ Excellent verbal and written communication skills 
Creativity based on the available data 
Enthusiasm for working collaboratively 
Have a feeling for branding, graphic design, tonality and copywriting 
👹 "Devil is in the details" as your mantra 
The ability to absorb lots of information, and simplify it for the audience in a compelling way 
Experience with relevant tools (Google Search Console, Google Analytics, Mailchimp, Google Workspace) 
Very positive attitude to constantly learn something new – not only in the marketing field but more importantly in the real estate and tenant experience areas

YOU CAN LOOK FORWARD TO
⭐️ Great culture
Relaxed office atmosphere in a co-working space in Prague 
Bunch of driven, energetic people who are ready to support you 
After-work team events

🌴 Work-life balance 
Flexible working hours and WFH
25 days of paid leave 
Sabbatical leave after 5 years in the company 
4 paid sick days per year

🚀 Self-growth 
Gym/Sports Classes contribution 
International environment with English as the official company language
A company laptop is a matter of course.
What now?
We'll be looking forward to seeing your LinkedIn profile, examples of tangible results in your past positions, and as many showcases of your work as possible.
Department

Marketing

Locations

Prague

Employment type

Full-time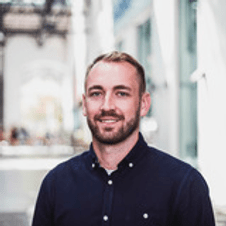 Contact
Jan
CO-Founder & Chief Commercial Officer – Sales
Workplace & culture
Experience the vibe of a fast scaling company: energy, drive, fast pace, quick results, new customers, new features. We have a hunger to build something big.
If you join the team, you will shape the culture, product, strategy and set new processes. There are many different things to do, you will learn on the go and experience various roles.
Enjoy maximum flexibility, freedom, and responsibility. We don't like, micro-management. We enjoy the time together in office and after work, ideally in some beer pub.
If this sounds familiar, you will feel like at home, here.
Already working at Spaceflow?
Let's recruit together and find your next colleague.